Gulfeagle Supply has partnered with Cristo Rey High School and their Work Study Program to provide four students with invaluable real-world work experience!  "Cristo Rey Tampa High School, a Catholic, college-preparatory school and work study program sponsored by the Salesians of Don Bosco, forms underserved young men and women who will actively live faith, hope and love."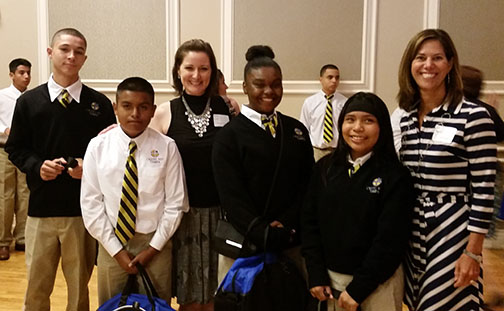 Cristo Ray Tampa is the first Cristo Rey High School in Florida with this year being the first year of operation. Their Corporate Work Study Program  provides students with private, college preparatory education as well as the opportunity to develop professionally, working five full days each month in our Corporate office.  Gulfeagle is committed to enriching the lives of these students via coaching, mentoring, and supervision. One intern will be assigned to each of the following departments: Accounts Payable, Safety, Human Resources, and Information Technology and will receive hands-on training in these areas.
Our students were selected at "Draft Day" on August 5, 2016 and everyone is very excited for them to start work on August 15, 2016. Gulfeagle is committed to serving these students and helping transform their future over the next four years and beyond.